What Sponsors Can Budget for to Enroll Rare Disease Clinical Trials Faster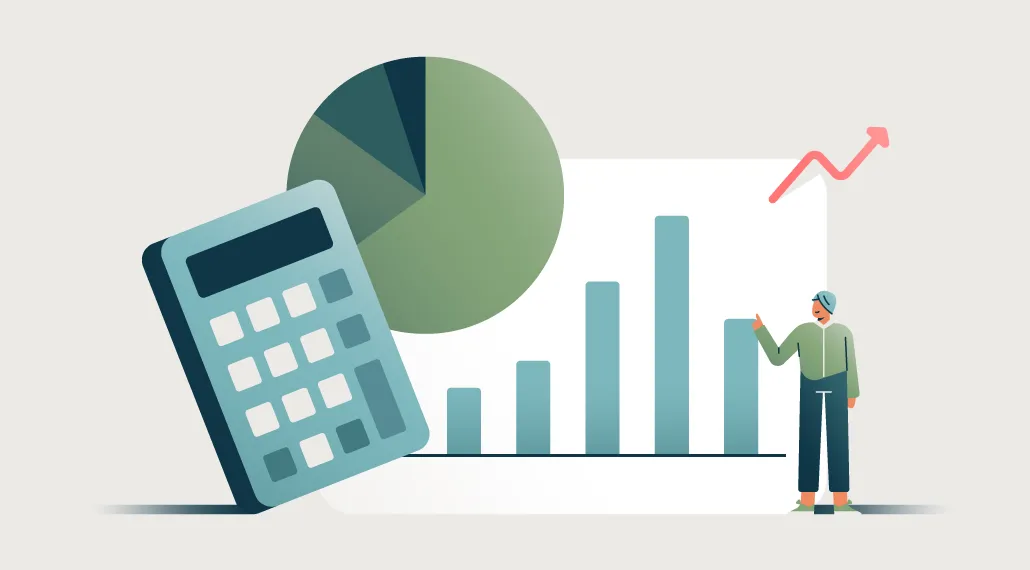 Rare disease trials are challenging to recruit patients for, largely due to the limited patient population that's affected. Site staff often work on multiple trials, so they may not have adequate time to try to recruit patients while also working to enroll existing candidates on time. In order to speed up enrollment for rare disease clinical trials, sponsors can drive more patients into the enrollment funnel, while supporting sites' ability to manage those already in the enrollment process. To do just that, here are three things sponsors can budget for in rare disease clinical trials.
(1) Referral campaigns and integrations
When it comes to identifying patient candidates for rare disease trials, hospital databases and principal investigator referrals are often key resources. But what if numbers are still too low for your trial to meet enrollment goals?
Consider budgeting for referral campaigns. When sponsors work with recruitment partners to refer more eligible patients to sites, site staff can focus more on enrolling and caring for patient candidates without the added responsibility of searching for additional patients.
To reduce site burden, sponsors can budget for integration solutions like our Referral Partner Interface (RPI). This integration connects the referral partner's database to the StudyTeam enrollment performance management platform. The result: referral partners directly route information about referred patients into the system sites are already using to enroll patients. With this integration, sponsors can view Referral Reports in real time from their StudyTeam for Sponsors dashboard, and can assess return on investment to determine which recruitment partners to prioritize spend on.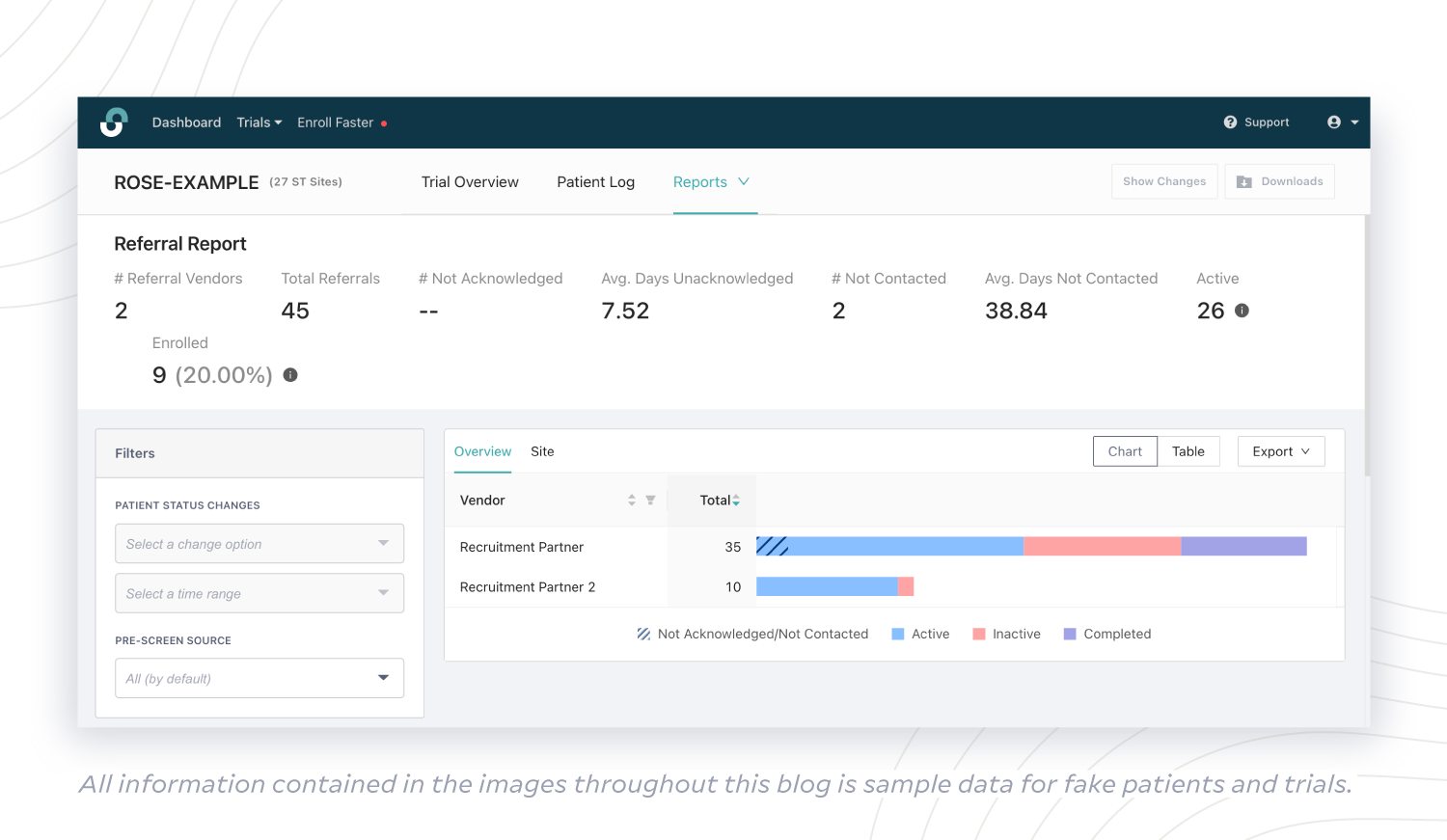 Sponsors who invest in RPI can also reap the benefits of solutions like Study Websites, which are customized clinical trial recruitment websites that connect patients to the right trials. Patients and caregivers who arrive at these websites are able to learn more about the specific rare disease trial, identify the closest site location to them, and fill out a prescreener form to determine initial eligibility without having to travel to the site, reducing patient burden. Through RPI, the site team receives that information in their StudyTeam patient database with no extra work, and they are able to contact the patient and move the patient through the enrollment funnel from there.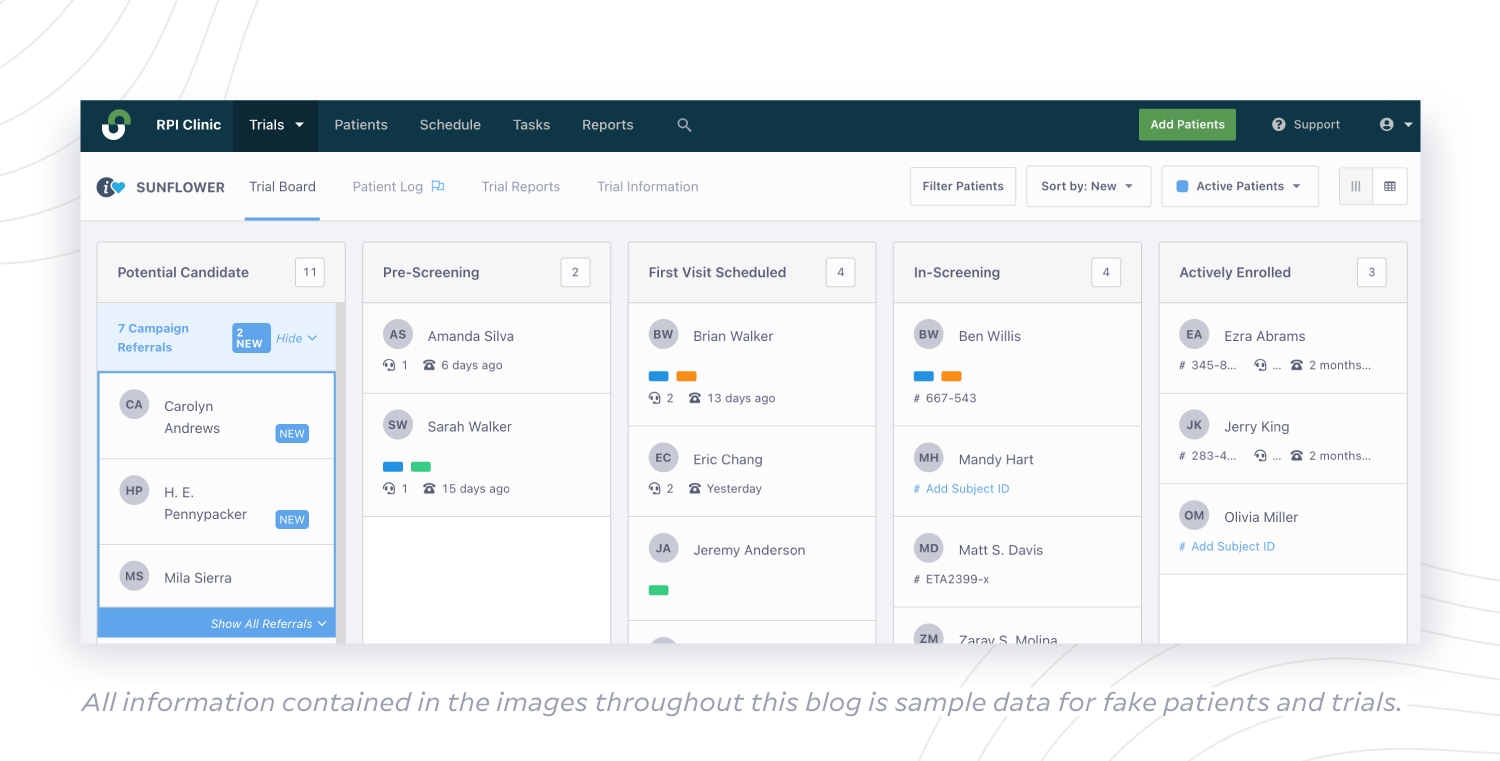 (2) A secure technology platform that empowers sites to easily build and update a wide patient database
Sites need to be able to ensure no eligible patient is missed in the system, especially when that list of patients is inherently short. When sponsors make space in their budget to provide sites with a secure technology platform to compile their patient database, sites can collect enough pre-screening data to inform eligibility across all the rare disease trials they are working on.
With a centralized platform like StudyTeam, site teams can easily input and securely store pre-screening information based on inclusion/exclusion criteria, and track diagnoses and research indications based on granular ICD-10 codes for ultimate accuracy. Using the Extended Patient Profile feature, sites can gather all pre-screening data in one place to build a robust database that updates for all users in real-time. Then, site staff can quickly identify patients for another trial if they don't fully match the criteria for the first trial. This way, they can enroll every enrollable patient.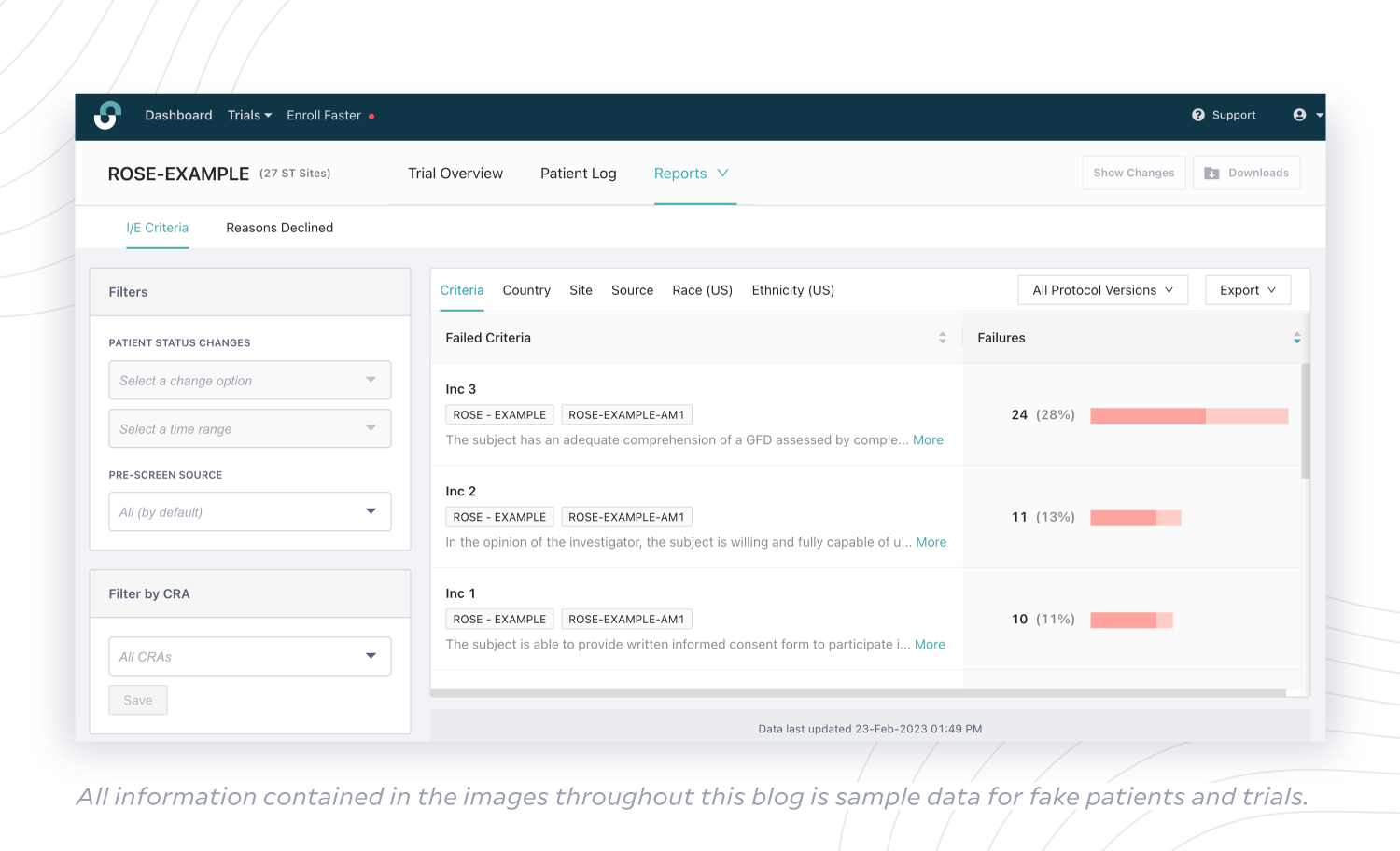 On the sponsor side, StudyTeam for Sponsors includes the I/E Criteria Report, which shows reasons for patient ineligibility across all sites using StudyTeam. Sponsors can take action earlier in the enrollment funnel when roadblocks become apparent, such as a criterion with a high failure rate. Is a protocol amendment an option? Is rescreening an option?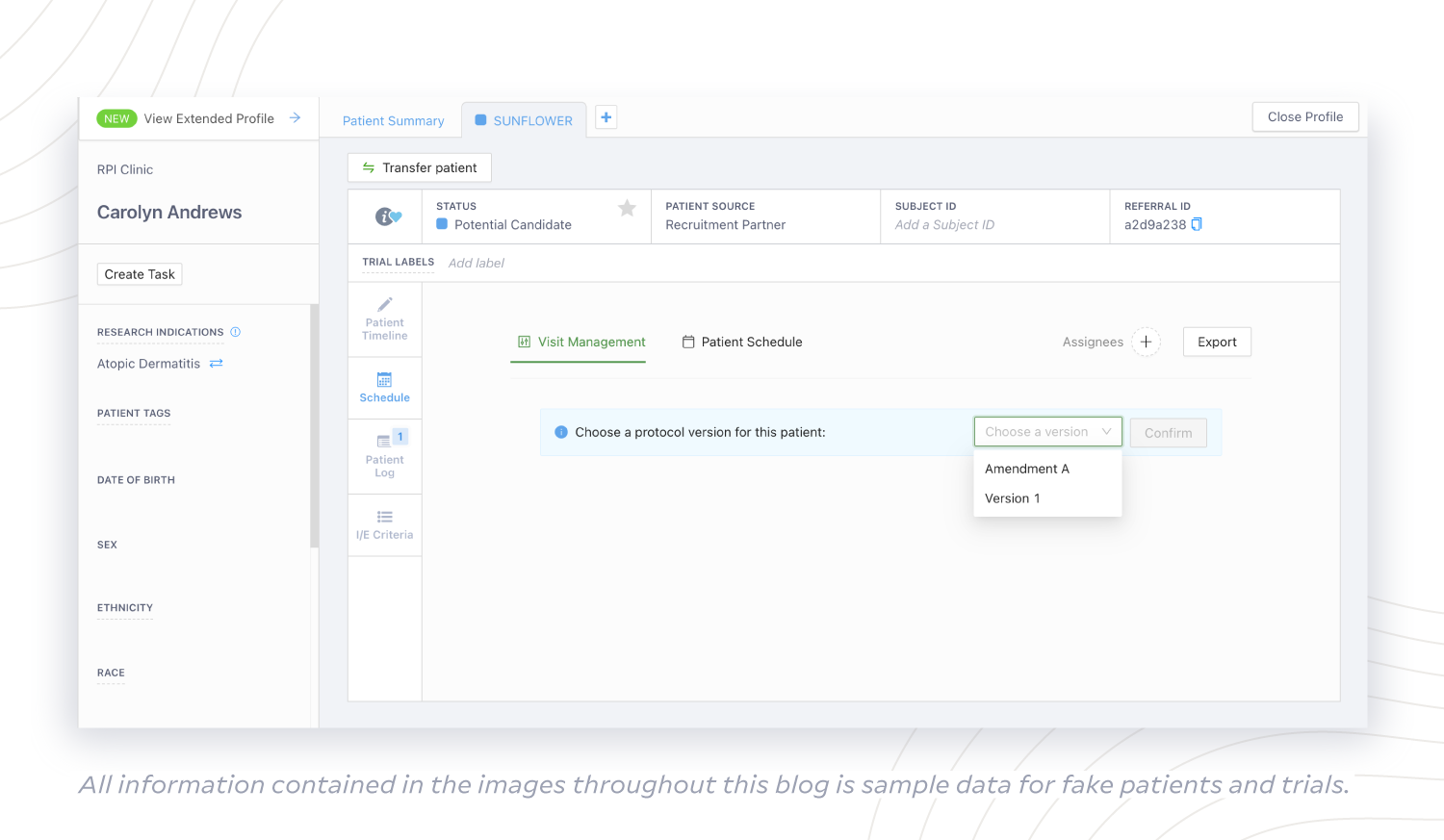 If a sponsor amends the protocol, there is no extra burden to site teams using StudyTeam. They can simply select the correct protocol version in the Patient Card when updating patient information. Similarly, sites can use a Visit Window Calculator that is built into StudyTeam and customized to match amended protocol needs when scheduling patient visits.
In the case of rescreening, StudyTeam offers a useful rescreening feature that allows sites to mark certain patients as eligible to be rescreened at a later date. By tagging and tracking these patients with an Expected Next Contact Date, the patient can easily come back onto the site team's radar through the Trial Board.
(3) Reimbursement for patients who are willing to travel
In addition to budgeting for the right technology and campaigns to support site teams, sponsors can consider financial support for patients as well. Because rare diseases affect a smaller population, retaining patients at every point in the enrollment funnel can be an important step. If caregivers and patients delay their decision to participate in a trial due to the burden of travel and related costs, a reimbursement option could support their decision to ultimately move forward and enroll.
A strategic budget leads to better results
Sponsors who speed up the enrollment process by providing the right support to sites – and patients – save money that could otherwise be lost to trial delays. They save sites valuable time that can be redirected toward better patient care. And they help get the most eligible patients access to a therapy option sooner.
Ready to talk about your technology budget for your next rare disease clinical trial?
Related Posts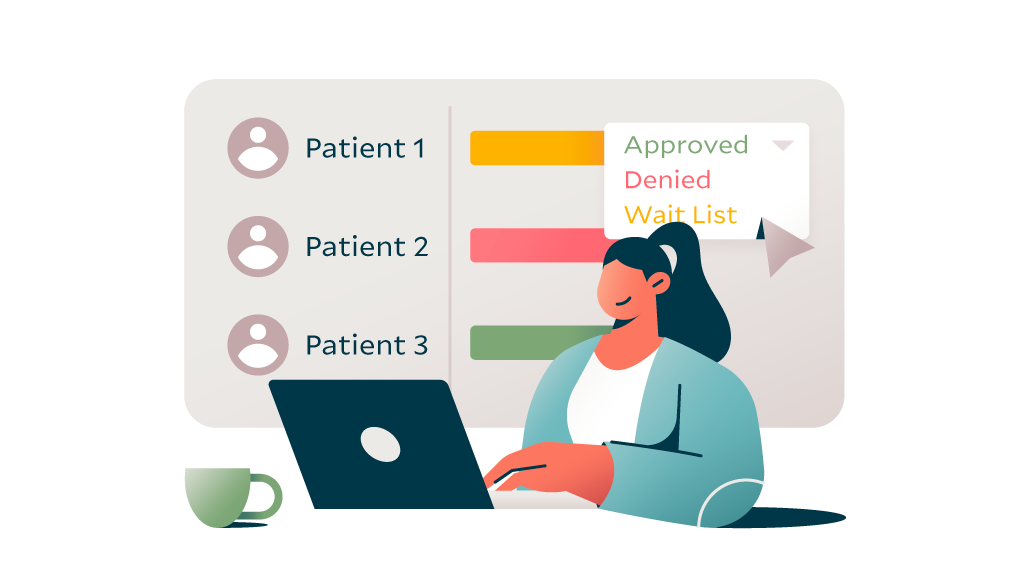 Patient slot allocation can be a critical element of early phase clinical ...
Read More