OneStudyTeam and Antidote Partner to Maximize Clinical Trial Recruitment and Enrollment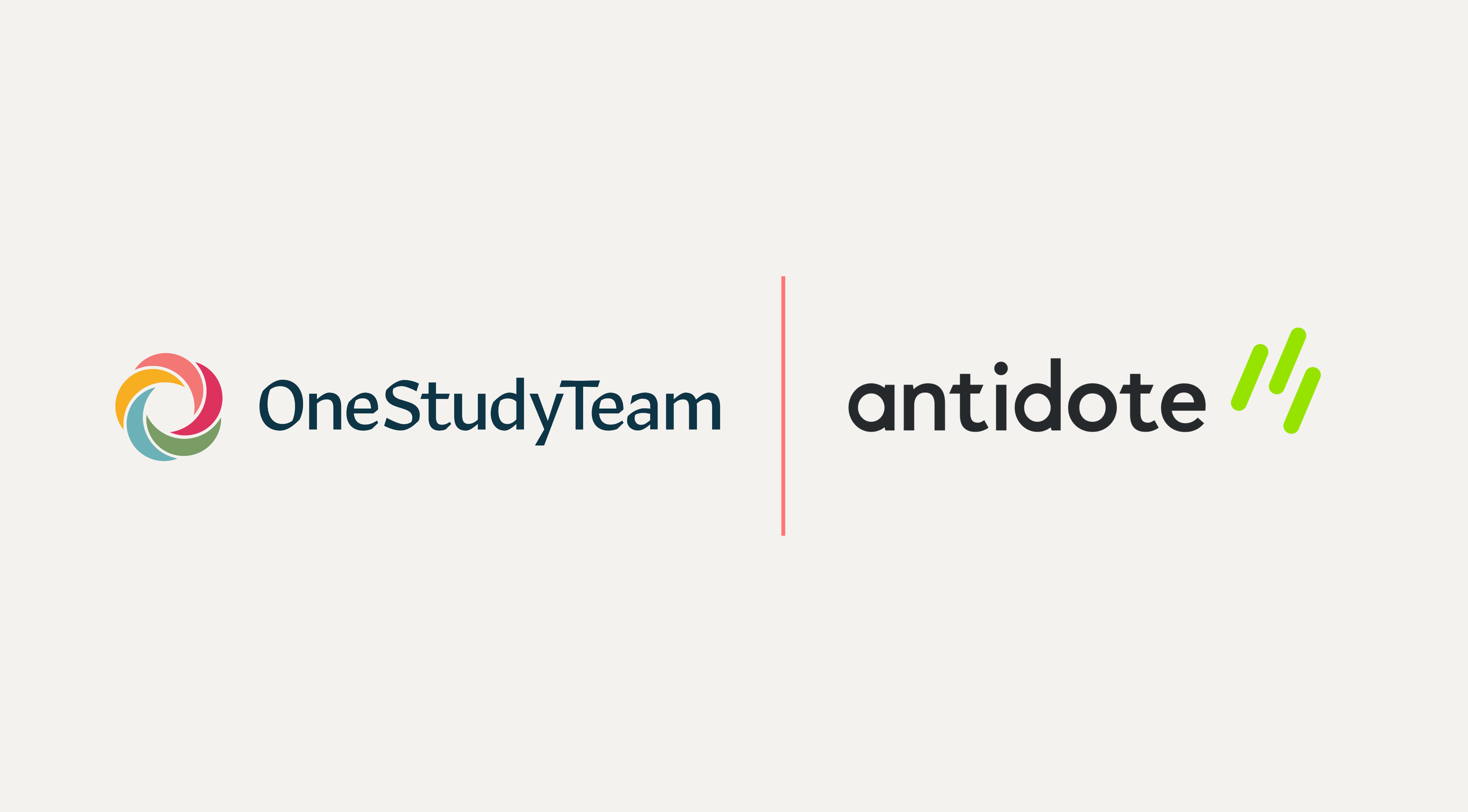 With complementary technology and a shared mission, the partnership connects recruitment and enrollment systems with an aim to ensure that no patient slips through the cracks
Boston, MA and Miami, FL — November 7, 2022 — OneStudyTeam, a company that provides the cloud-based platform StudyTeamTM to connect site and sponsor workflows to accelerate clinical trial enrollment, and Antidote Technologies ("Antidote"), a digital patient engagement company that connects sponsors and patients, today announced a partnership to provide sites and sponsors with a connected, end-to-end patient referral management experience to give them control in clinical trial recruitment efforts.
While on the front lines each day, research site staff are bogged down with clinical operations bottlenecks, including logging into disparate patient referral portals, which slows enrollment. OneStudyTeam works directly with research sites, sponsors, and technology partners to reduce site staff burden by integrating patient recruitment solutions with its cloud-based technology platform, StudyTeam. Through StudyTeam, site staff can log into one system to manage enrollment across all patient sources and run trials more effectively, connecting sites and sponsors in one central hub to increase transparency, collaboration, speed, and predictability.
Antidote integrates data-driven technologies, digital expertise, deep domain experience, and an extensive diverse partner network to find the right patients for trials. StudyTeam sees participants through to enrollment and provides sponsors with visibility throughout the entire enrollment funnel. Antidote is now integrated with StudyTeam's Referral Partner Interface (RPI), which includes a newly-released race and ethnicity feature, to streamline site workflows and deliver referrals and patient demographic information directly into the StudyTeam platform. For sites, this means they can receive higher quality referrals in their enrollment management solution—StudyTeam. For sponsors, they can receive more actionable enrollment data, including recruitment source traceability, compare patient sources, assess ROI on central advertising efforts, and understand recruitment's impact on patient diversity.
Recent guidance from the Food and Drug Administration underscores the commitment to increasing diversity in clinical research by recommending that sponsors submit a "Race and Ethnicity Diversity Plan" early in the clinical development process. Antidote and OneStudyTeam recognize that the success of research moving forward will hinge on the ability to recruit, enroll, and retain patients from all backgrounds, which is why both companies are taking an intentional approach to tackling this issue. Because racial and ethnic minorities only make up between 2% and 16% of clinical trial participants, more granular funnel insights can ensure Antidote is recruiting the right patients while OneStudyTeam works with sites to retain them.
"Where OneStudyTeam provides visibility to measure and understand gaps in enrollment strategy, Antidote has mastered identifying those critical patients and matching them to the right trial," said Ralph Passarella, CEO of OneStudyTeam. "This collaboration spans the recruitment and enrollment continuum to drive diversity, equity, inclusion, and representation among trial candidates."
Antidote's data-driven outreach focuses on ensuring the right mix of patients is connected with each clinical trial opportunity, while OneStudyTeam's solutions provide insights into minority representation further down the funnel. When combined, this data provides sponsors with a complete picture of who is enrolling in their trials (and who is not), and allows for recruitment adjustments as needed to ensure the real world patient population is reflected in every clinical trial.
"Research is only as good as who participates, which is why Antidote is dedicated to leading the way for a more diverse research landscape," said Laurent Schockmel, CEO of Antidote. "OneStudyTeam shares this aspect of our mission, and it's an honor to offer our clients a solution to drive diversity, equity, and inclusion in clinical trials."
Through this partnership, OneStudyTeam and Antidote enable a seamless experience for sponsors, sites, and patients, paving the way for accelerated medical research for all to take place. For more information, visit www.OneStudyTeam.com and www.antidote.me.
About OneStudyTeam
OneStudyTeam, a member of the Reify Health family, provides the cloud-based platform StudyTeam to connect the clinical research ecosystem and shorten the distance between patients and potential cures. StudyTeam brings research site workflows online and enables sites, sponsors, and other key stakeholders to work together more effectively using common technology. The suite of StudyTeam solutions reduces site burden and helps sites pre-screen and enroll more patients, provides sponsors with end-to-end visibility into recruitment activity across all channels, and guides sites in conducting the trial for patients who have been enrolled. StudyTeam is trusted by the largest global biopharmaceutical companies, used in over 5,000 research sites, and is available in over 100 countries. One mission. One team. That's OneStudyTeam. To learn more, visit www.OneStudyTeam.com.
About Antidote
Antidote is a digital health company on a mission to accelerate medical research. In a world where 80% of clinical trials are delayed or closed due to a shortage of suitable participants, Antidote uses precision recruitment to match the right patients with the right trials, striking the right balance between technology and human touch to deliver high-quality patient engagement. This is achieved through the integration of data-driven technologies, digital expertise, deep domain experience, an extensive diverse partner network, and personalized patient and site services. Antidote was launched as TrialReach and is based in the US and UK. For more information, please visit http://www.antidote.me.
Media Contacts
Katie Johnston
PAN Communications for OneStudyTeam
814 331 2439
Lisa Conroy
Head of Communications, Antidote
+1 215 872 2917
Related Posts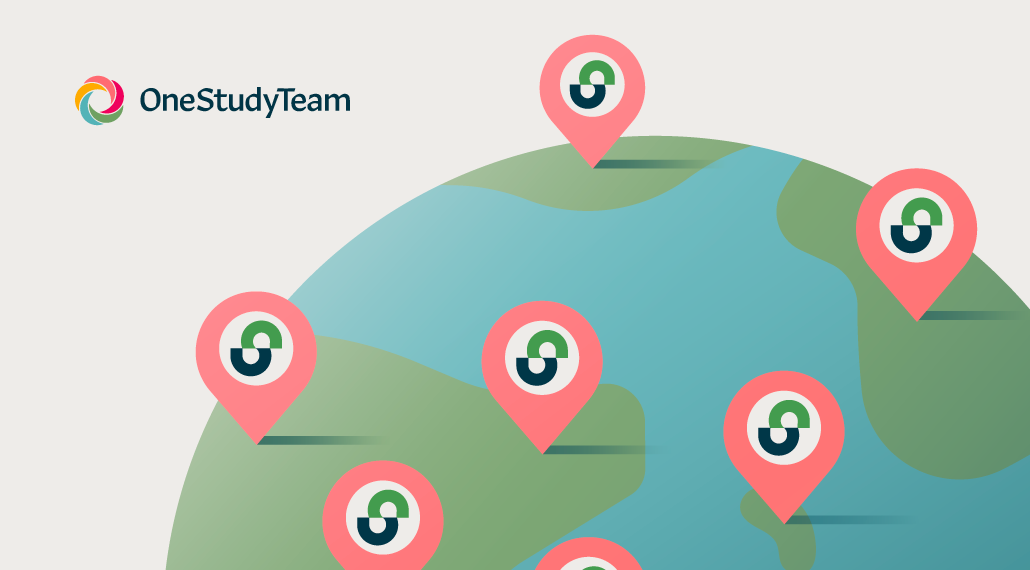 Sites using StudyTeam platform to manage and accelerate clinical trial ...
Read More