Clinical Study Startup Process: 6 Ways to Prepare for Effective Pre-screening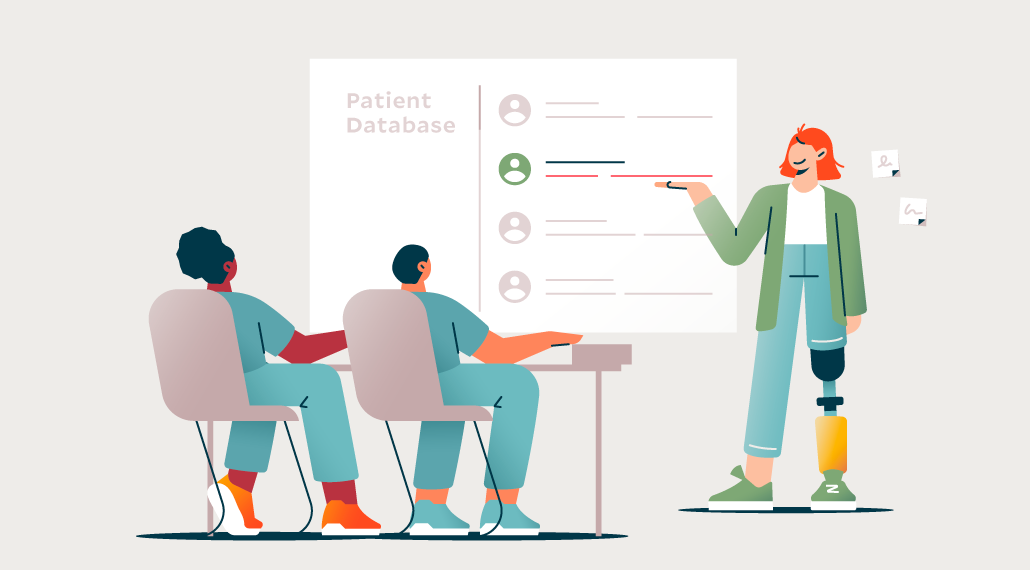 By Michael Butera, Senior Director of Strategy and Customer Success at OneStudyTeam
A strategic clinical study startup process can set your entire recruitment and enrollment period up for success. At OneStudyTeam, our Customer Success experts work with sponsors on study startup milestones to:
Help them implement

pre-screening

practices with their sites to more efficiently collect I/E-criteria impacts, other patient barriers to enrollment, and insight into the initial patient pipeline, all prior to informed consent;
Take earlier and more informed actions to course correct potential misses to key enrollment milestones and navigate unforeseen enrollment challenges;
Get value out of their patient enrollment management platform (

StudyTeam

) while achieving trial objectives.
Based on the study startup work we complete with our sponsor partners, here's our recommended clinical trial study startup checklist. Take these 6 steps to prepare for effective pre-screening.
(1) Revise CRA monitoring plan templates to include pre-screening.
CRA monitoring plans not only ensure reviews of data accuracy, but they set a standard approach for monitoring clinical data collection. Make sure monitoring templates include:
Routine check-ins to confirm site teams are pre-screening patients as expected for the trial, and collecting pre-screening data that can be shared with the sponsor side.
Routine monitoring of trial data to identify early roadblocks to enrollment for all patients or certain subsets of patients.
(2) Talk about pre-screening requirements during Site Qualification Visits.
When you meet with prospective sites to determine their ability and readiness to work on your trial, be clear that sharing pre-screening data with you, the sponsor, is a required step in the recruitment and enrollment process. Make sure the site representative understands the two-part approach to pre-screening:
If StudyTeam is the platform of choice, for example, your site teams will be using a designated pre-screening platform to securely share de-identified information with the sponsor team.
Site team members will mark off a digital checklist of pre-screening questions based on the protocol during pre-informed-consent visits or chart review.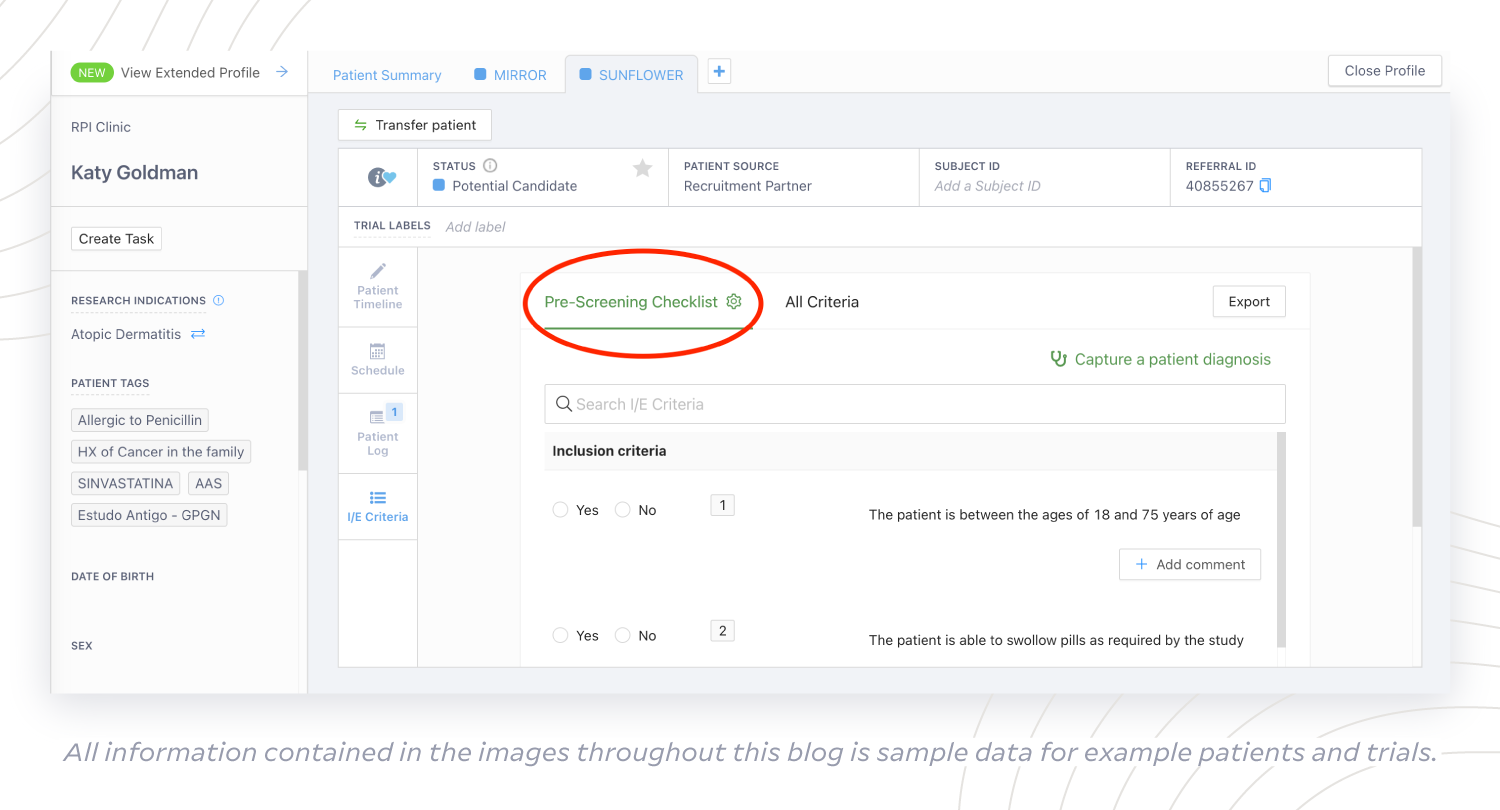 (3) Talk about pre-screening requirements during Site Initiation Visits.
Site Initiation Visits (SIV) generally include a discussion of the monitoring plan, as well as protocol specifics like inclusion/exclusion criteria and required procedures. During this visit, set expectations around the patient pre-screening process.
Introduce the pre-screening platform sites will use. When our sponsor partners introduce the StudyTeam patient enrollment management platform to site teams, they can share that the platform is provided to sites for free and that it's designed to make patient visit management and pre-screening workflows easier for site teams, with pre-screening questions built right into the platform from the protocol.
Share the benefits of pre-screening for sites. When requiring pre-screening, it's helpful to clarify that sites

benefit

from this upfront work. By collecting this data, sites build robust patient databases that can be used across trials. They can also build a reputation as successful partners on studies, improving bids for additional trials with the same sponsors.
(4) Address the pre-screening process and platform implementation during Investigator Meetings.
With sites, CRAs, vendors, and sponsors meeting in person during this time to go over the goals and objectives for the trial, it's important to clarify the big-picture reason for pre-screening. When you, the sponsor, are able to view de-identified patient data earlier during recruitment and enrollment, you can more quickly identify roadblocks and take action to accelerate patient enrollment. With this visibility, you can:
Be more agile in supporting site teams who are struggling to enroll enough patients;
Identify opportunities to amend protocols and recruitment tactics earlier;
More quickly achieve enrollment goals;
Get patients access to potential therapies sooner.
When you work with OneStudyTeam, our experts attend Investigator Meetings to demonstrate and train sites and CRAs on StudyTeam, while going over the benefits of submitting pre-screening within the platform.
(5) Host training sessions for site teams about how to use the chosen pre-screening platform.
Set your site teams up for success with an interactive walk-through of the pre-screening platform they will be using. When our team demonstrates the use of StudyTeam, we emphasize:
The simplicity of logging into the cloud-based platform from anywhere and quickly locating a trial;
How to easily move patients through the Trial Board from Potential Candidate, to Pre-Screening, to First Visit Scheduled, etc.;
How to locate and fill out the Pre-screening Log built into every Patient Profile;
All of the helpful

Visit Management features

available to them.
(6) Partner with a team of experts to navigate each of these steps and drive enrollment optimization.
To move more efficiently through each of these steps and accelerate the clinical trial study startup process, partner with a team of experts that routinely navigates these best practices to support both sites and sponsors.
At OneStudyTeam, our global Customer Success team joins the study startup process as soon as a sponsor decides to make the StudyTeam platform available to research sites on a particular trial. From the kickoff meeting through trial closeout, our team of experts establishes regular checkpoints with you and your team to optimize study startup as well as recruitment and enrollment. Checkpoints include:
Customer Success aligns on critical success factors
Sponsor Success experts provide updated language around pre-screening to insert into CRA monitoring templates
Trial Design experts build the trial protocol into the StudyTeam platform for ultimate compliance
Trial Success experts activate sites on pre-screening processes and use of the StudyTeam platform to easily and securely collect pre-screening data
Sponsor Success experts lead regular trial status syncs with the sponsor to review enrollment progress based on pre-screening insights and to identify opportunities for course-correction
Site Success experts provide ongoing support to site teams who use StudyTeam, all the way through enrollment
Sponsor Success experts lead quarterly reporting, review of KPIs, and alignment on strategic initiatives with the sponsor
Start optimizing your clinical trial study startup process to meet your recruitment and enrollment goals sooner.
Ready to work through your clinical trial study startup checklist? OneStudyTeam will partner with you through these study startup milestones, and beyond, to drive success for your trial. At OneStudyTeam, we have a whole global team of experts supporting you, to guide you as you not only prepare for effective pre-screening, but also as you monitor those pre-screening insights through the course of recruitment and enrollment. With the right processes in place and the right insights to determine opportunities for enrollment optimization, you're on your way to faster trials.
Related Posts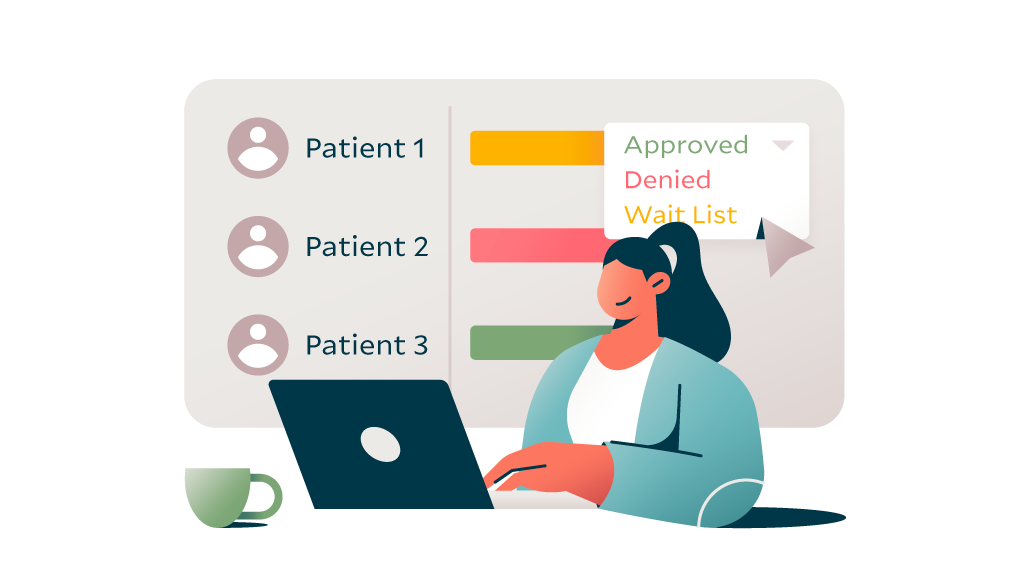 Patient slot allocation can be a critical element of early phase clinical ...
Read More