Site Seeing: Saving a Day of Work Every Week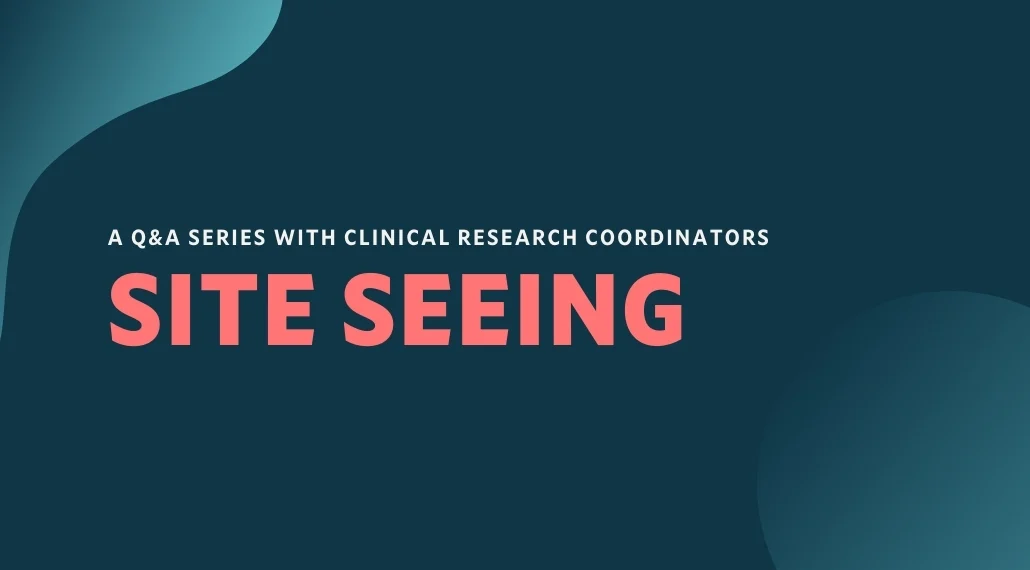 A Q&A Series with Clinical Research Sites
Natalie Marlen has been a research coordinator for 25 years, with the last five years at the Center of Excellence in Diabetes and Endocrinology (CEDE) founded by Dr. Gnanagurudasan Prakasam. Natalie uses StudyTeam throughout her day to manage patient recruitment and enrollment activities. She estimates StudyTeam saves her a day's worth of work every week, giving her the time for more meaningful activities with patients and sponsors. We spoke with Natalie about how she uses StudyTeam and how it has improved collaboration between sponsors and sites.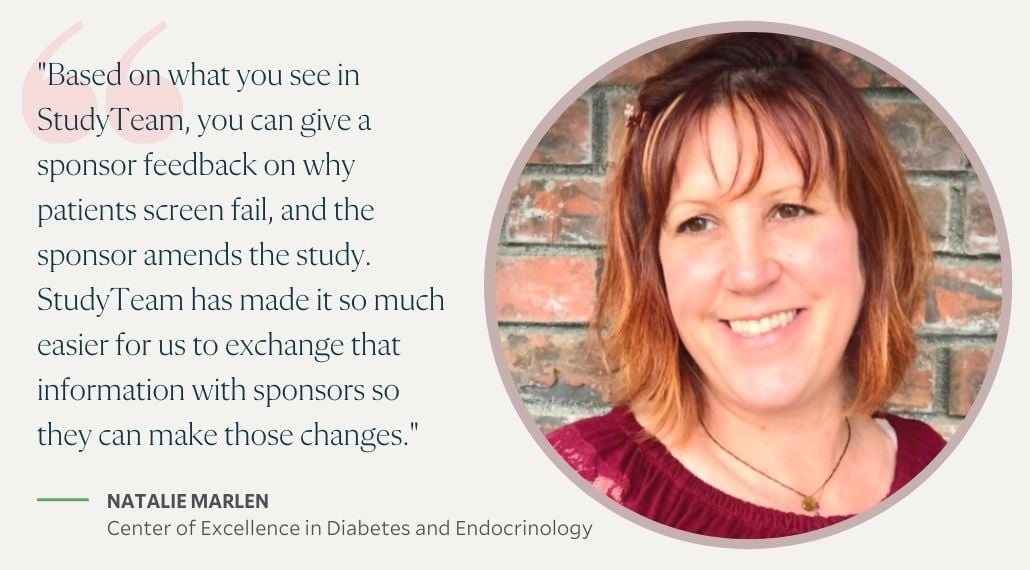 Can you tell us about your role and what a typical day looks like?
I am a research coordinator at Center of Excellence in Diabetes and Endocrinology (CEDE) in Sacramento, California. We do clinical trials for adults and pediatrics patients, generally in endocrinology.
My day consists of seeing and recruiting patients, and doing everything a research coordinator does—keeping track of patients, making sure they are safe, and making sure their appointments are scheduled.


How do you use StudyTeam?
I am in StudyTeam right now as we speak. It is on my computer all day.
For my daily routine, I often use StudyTeam as a scheduling tool—to confirm patients, especially with phone call visits—even when patients are also scheduled in an EMR. It is so easy to use StudyTeam and see what is needed for the day or week for each study.
All of our patients are in StudyTeam, in each study they are on, whether we are screening charts for potential patients—or prescreening—or if I'm in conversations with patients, scheduling, enrolling them, doing lab draws, everything I need to do for that study. I'm truly logged in all day.


Can you tell us about your initial perception of StudyTeam?
My first observation was that StudyTeam was a great tool. But now it's an essential daily tool for me. I have seen all the tech out there, and StudyTeam is an amazing tool that has always been evolving.
We can relay all of the work we have been doing, identify the number of pre-screen failures, and correct any issues that threaten the enrollment goals for a study.
We keep track of different indications and different trials all in one place with StudyTeam. I like that when sponsors are involved, we have a pre-screening log in StudyTeam that answers any sponsor questions without requiring a separate log. No one wants double work—that's where mistakes happen— so StudyTeam is a massive time saver, and it keeps all my work in one place.


It sounds like you are using StudyTeam on both sponsor and non-sponsor connected trials.
We use StudyTeam for every study we do. It is a tool for our entire site. For sponsor trials, StudyTeam gives sponsors that pre-screen log they need, so for us, we use StudyTeam one way for all our trials.


Are there other software solutions you use in conjunction with StudyTeam?
We don't need another CTMS. StudyTeam handles everything we need. Sometimes we use Google Drive, and we can use an EMR to run queries, but if a patient comes up in chart review we add them to StudyTeam, because that's where we do our work.


You mentioned StudyTeam has saved you time. How much time do you save with StudyTeam?
Probably a day's worth of work every week at least. StudyTeam saves me time from navigating an EMR for a patient I'm watching. I don't need to do another chart review; I already have my notes in one place in StudyTeam.
We have 36 trials in StudyTeam. Even when they are done the data we need is still in there. Sometimes sponsors want to know how many patients we've enrolled in a specific type of study. With StudyTeam, we have that information at our fingertips. StudyTeam is so useful in getting ready for new studies and future studies.


With the time you save with StudyTeam, what are you now able to spend more time doing?
Everything from recruitment for new patients to making sure CRFs [case report forms] are done on the same day. Part of our standard operating procedure is to enter data within 24 hours after a visit, because it gets our data in, which allows me to follow my patients more closely and safely. But also, when we get our data in, data leads to payments, and timely sponsor payments are vital for our operating expenses.


How do you collaborate with your site colleagues on StudyTeam?
My team can see that I looked at charts and that my patient notes are there, so we can see what is going on at all times. If I am off on a day that a patient is coming in, my colleagues will know that the patient signed informed consent, for example. It's really helpful knowing we're all on the same page.

What did you use before StudyTeam?
I had to write everything down, fax it over to sponsors, send over screening logs on certain days of the week, write down inclusion/exclusion criteria notes. Then we had a patchwork of different systems from sponsors and the EMR, but nothing stuck, because none of them worked well. StudyTeam is a totally different setup, and it's all we really use now.

What's your favorite StudyTeam feature?
Oh gosh there are a lot. Following patients—knowing when appointments are coming up—and just being able to keep track of pre-screening patients. It's all so helpful.


You mentioned you keep patients in StudyTeam after trials. Have you been able to track indications and patients and enroll into future trials?
Yes, if you were to go into our StudyTeam, we'll reach out to patients for multiple studies if we think they are relevant. There are lots of patients that have been looked at for 4-5 different studies. It's great to pull them back up if they didn't qualify for one study. We have multiple patients that have been on multiple trials for us. If you don't have patients, you are not meeting expectations. If you do well, sponsors will come back to you.
"StudyTeam has changed our relationships with sponsors. With StudyTeam, sponsors can see the work being done at sites, and it really does create better relationships between sites and sponsors."
Breaking down the recruitment challenge a bit, is it finding enough potential candidates or is it somewhere in the actual workflow of bringing them to enrollment that is difficult?
It depends on the study. Some studies are harder to recruit because people aren't interested.
But also finding a patient and having that patient meet the inclusion/exclusion criteria, sometimes it's very narrow.


With StudyTeam you can track I/E criteria and failure reasons. What impact does that have?
Yes, based on what you see in StudyTeam, you can give a sponsor feedback on why patients screen fail, and the sponsor amends the study. StudyTeam has made it so much easier for us to exchange that information with sponsors so they can make those changes.


Has StudyTeam improved your relationships with sponsors?
Yes, absolutely. As long as I've worked in research, StudyTeam has really changed our relationships with sponsors. With StudyTeam, sponsors can see the work being done at sites, and it really does create better relationships between sites and sponsors.
Related Posts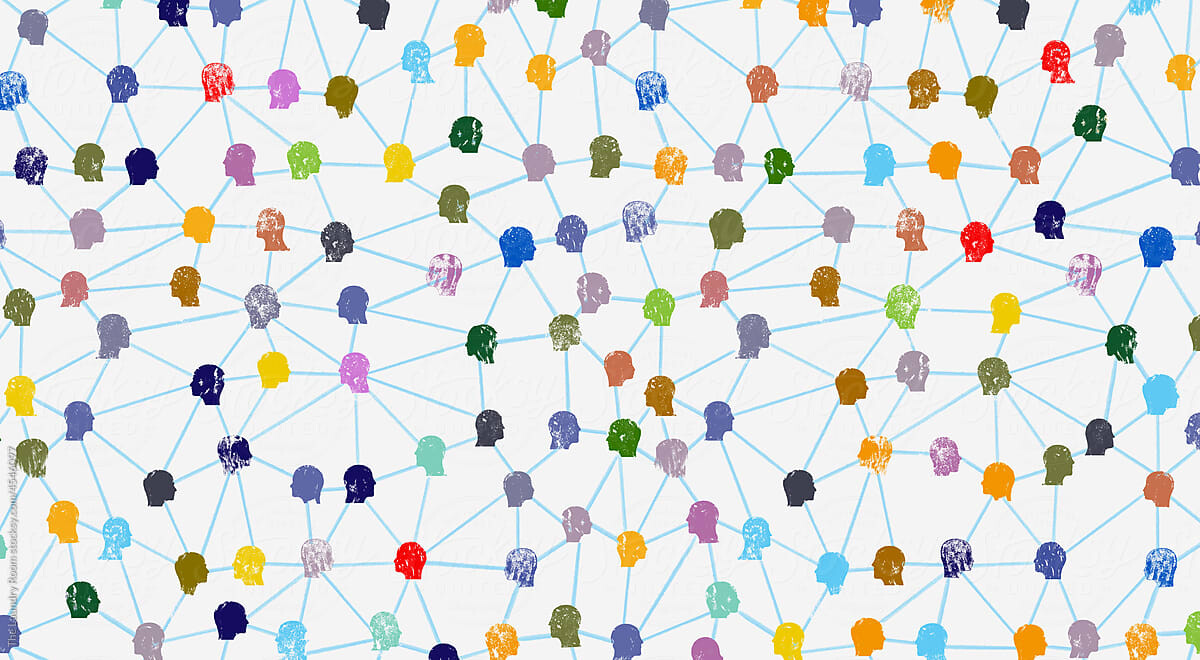 In the last several decades, public health research has illuminated the ...
Read More