How Research Sites Can Support Diversity in Clinical Trials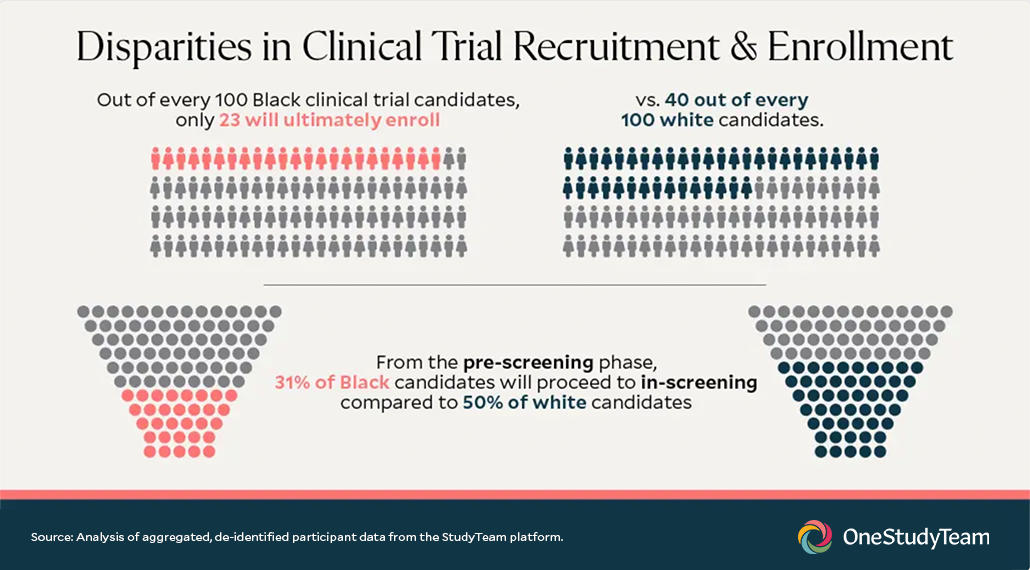 The goal of a clinical trial is to obtain a picture of the benefits and risks of a medical product in the population that will use it. For accuracy, data should come from a sample that represents the full spectrum of future patients. However, as we take a closer look at recruitment and enrollment numbers, it becomes apparent that this isn't always the case. A OneStudyTeam analysis of de-identified aggregate patient data found that Black clinical trial candidates are significantly less likely to proceed from pre-screening to in-screening and enrollment than white candidates. Data insights like these are the first step in identifying the source and magnitude of disparities in representation, but where can we take action to solve the problem?
Groups ranging from the U.S. FDA and biopharma sponsors to non-profit organizations and patient advocacy groups are weighing in to address this need. All of these stakeholders have a role to play, but to engage underserved populations in the near future we also need the support of clinical trial site staff —the "boots on the ground" that manage everyday study logistics.
Why? Many biopharma sponsors are now prioritizing diversity in trial enrollment and designing protocols accordingly. But site staff remain the crucial link between sponsors and the public recruiting pool. They're uniquely positioned to identify issues and factors in real-time that may inadvertently push potential participants out of the recruitment funnel. This creates a valuable feedback loop for sponsors to review their recruitment tactics, protocol details, and inclusion/exclusion criteria.
Track patient recruitment data early and often
Every clinical trial has a clear plan for data collection from enrolled participants. However, too few analyze the demographics of candidates who are recruited, but who fail to enroll. This information provides valuable clues that can further diversity (and patient experience) in clinical research.
Tracking demographic data is standard practice for most sites, but there are two key nuances to keep in mind:
Demographic and social data from clinical trial participants are often already contained in electronic medical records. But for sponsors, that information may be limited to patients who successfully enroll. Sites have a window further upstream to understand who is making it into the recruitment funnel and whether certain groups are more likely to drop out during the pre-screening and screening phases.
To inform enrollment goals related to diversity, sponsors should incorporate the collection of demographic information into the pre-screening and screening phases when possible.
As the liaisons between recruited participants and trial sponsors, a site's staff is uniquely positioned to hear patients' barriers to trial participation and invite sharing of related demographic information.
Sites also have an opportunity to track both pieces of information – barriers to trial participation and demographic information – to inform trial decisions.
Having a clear route to record potential participant information (such as age, sex, race and ethnicity, geographic distance from a trial site, and housing status) from early in the recruitment and enrollment process helps site staff make a maximal impact in increasing clinical trial diversity. Instead of only knowing the demographics of participants who ultimately enroll, sponsors can then see trends in recruitment and screen-fails and understand barriers to enrollment faced by certain populations.
Share de-identified patient recruitment data with sponsors
Sponsors shouldn't wait to look back on their recruitment and enrollment processes to assess diversity. Demographic information collected by site staff should be shared automatically through a channel or platform that sponsors can securely access. Communicating data to sponsors along the way, rather than in a retrospective summary, offers an opportunity to reassess recruitment tactics or make informed protocol adjustments if needed.
For example, if site staff share that multiple patients of a particular race or ethnicity fail to enroll because of high travel costs to onsite visits — limiting the trial's recruiting pool — the sponsor could consider implementing travel reimbursement for clinical trial participants. Having early insight into the issue gives sponsors an opportunity to take action and course correct if a trial is not on track to meet its goals for representation in participant enrollment. Sponsors, in turn, have a responsibility to encourage the timely collection of this data, to review this data, and to empower sites with tools and clear workflows to share them efficiently.
With a rising emphasis on real-world evidence and diverse representation in clinical trials, it's clear that sponsors have a responsibility to identify blind spots in their research. Empowering trial sites with guidance and tools to collect and report detailed demographic data from early in the recruitment funnel can help to fill in these knowledge gaps. By collecting information about barriers to trial participation from participants who fail to enroll, site staff can help elucidate disparities in clinical trial diversity and support the overall goal of clinical research: Making products safe and effective for every patient.
How StudyTeam delivers diversity insights
As more sponsors track diversity data, trial managers rely on technology to gather and analyze critical information. When sites capture demographic data in StudyTeam for Sites as part of their standard workflow, the platform automatically showcases that de-identified information within reports in StudyTeam for Sponsors to the sponsor who is connected on that trial. With this data, sponsors can understand key differences in enrollment outcomes across different demographics.
As noted and visualized in the image above, OneStudyTeam performed its own analysis of de-identified aggregate patient data between Black and white patient groups. Within a sample of approximately 10,000 patients, of every 100 patients, 23 Black patients eventually enroll compared to 40 white patients. The key difference emerges at the pre-screening to in-screening transition: Black pre-screened candidates move to in-screening at a much lower rate than white pre-screened candidates—31% compared to 50%. In other words, Black candidates are ~40% less likely to move into screening for a trial than white candidates. Once in screening, the percentage that moves from in-screening to enrollment is more similar between the groups, although still lower among black patients—82% vs 87% for white patients.
Clearly, these are meaningful disparities that would otherwise go unseen and thus unaddressed. To make real progress in increasing clinical trial diversity, sponsors can leverage insights contained within their own data to see what's holding them back and create targeted solutions that work for their trials and participants.
Related Posts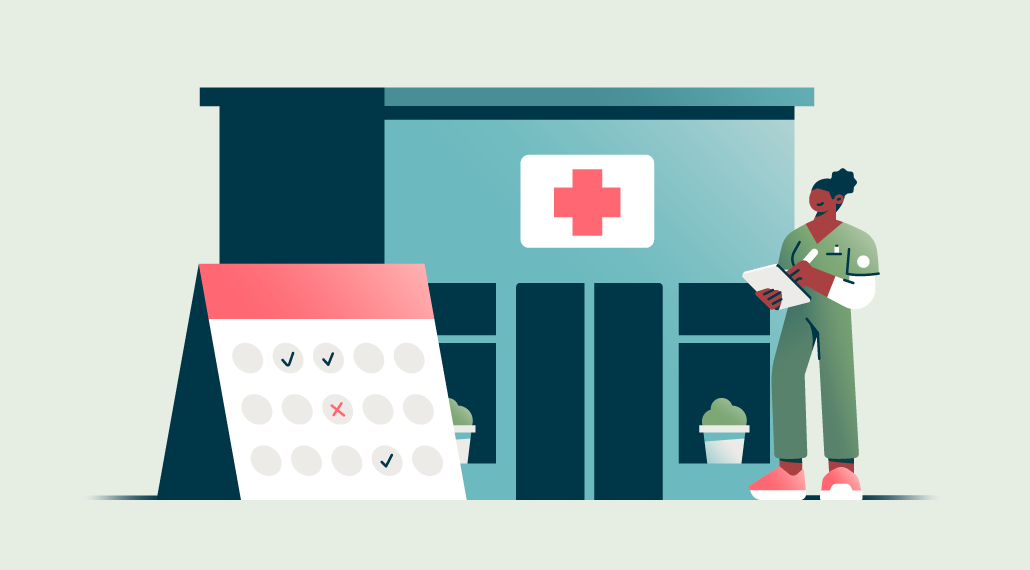 Meet research coordinator Anne-Helene Boivin of Centre Hospitalier de ...
Read More